This blog was first published in CanmoreAlberta.com. Thank you for the feature!
Canmore, My Town: A Realtor's Homage to Canmore
When I hitchhiked the USA and Canada as a teenager in the 1980's a dream was born. I would one day live in Canada. Thirty years later - I was married with two young kids and working in Shanghai, China - I was ready to make the move.

In 2011 while still working in China my wife and I came to Canada for 8 weeks with the sole purpose to find a place to call home.
It was clear that it would be somewhere in the west. As a student I had visited Jasper and Banff and I loved Vancouver. In 2005 I had taken my wife on a longer RV-tour through BC and Alberta to find out if she could agree.


Coming from Germany, some of those personality traits kicked in when it was time to make a choice. The qualification list included items like weather/climate, job situation, schools and education, real estate, medical care, and a decent connection to an airport.


After having driven around for 2 months and having visited literally every larger town in AB and BC, we had several places on our short-list. Vancouver was out. I realized that because I had lived in a city with over 20 million people for so long - I wanted to escape the crowded big city feel. But Squamish, between Vancouver and Whistler, was an option. So were Revelstoke, Jasper, Fernie and Nelson.
A tour guide who we met in Jasper told us about his girlfriend who lived in Canmore. And as we passed the town sign on a sunny afternoon it was love at first sight. Canmore is a phenomenal place to live and raise a family.
Surrounded by a breathtaking mountain range, and with a river running through, you will never get tired of the stunning scenery and the endless possibilities for outdoor explorations. With about 16,000 residents, the town has just the right size. Canmore's population is young, energetic, diverse, and well-educated. People here value a vigorous, active outdoor adventure lifestyle. Hiking and biking are fantastic in summer, although with a river and several lakes in the area, water sports are popular, too. And, there are 3 golf courses around Canmore.
But if you are not into sports, we also have a vivid art and music scene with "artsPlace" at its centre. There is great shopping and food. Events include sports events at the state-of-the-art Nordic Center or around Quarry Lake but also the yearly Canada Day, Folk Festival, Highland Games and Canmore Uncorked. Elevation Place hosts a library, a big swimming pool, gym and climbing wall. The Recreation Center has 2 ice rinks, and several multi-purpose gymnasiums.


If you crave the hustle and bustle, the busy and world-renowned town of Banff is just 30 minutes away. Or drive the 90 minutes to Calgary's downtown core with everything that a big city has to offer.


Canmore has a good health care system with its own 72 bed hospital and over 60 practicing physicians and surgeons. The Calgary children's hospital is close by.
We have a Catholic school (Our Lady of the Snows Catholic Academy) and a French school (Ecole Notre-Dame des Monts) from elementary to high school and there is a public school system as well with Elizabeth Rummel (primary), Lawrence Grassi (middle) and the Canmore Collegiate (high school). School busses run to and from all schools.
Canmore's climate is comfortable although it can get cold in winter. The summer season (July, August) usually has low humidity and warm temperatures with average highs about 21degrees Celsius. Daylight hours last until 11pm at the height of summer which is great for extended outdoor activities.
In autumn (September-October) leaves turn yellow and red and create an amazing sea of colours around town. Days are still warm, but evenings can come with cooler winds.


November to March is the winter season. It can snow occasionally as early as September but snow that falls in November usually stays for the winter. The average temperature during the winter months is around -12 degrees with a cold snap during December/January. Canmore residents use the winter to ski at one of the 4 skiing resorts close by or to skate on one of the many lakes in the area. Nordic skiing, snowshoeing, dog sledding, or ice fishing are other popular activities.


But Canmore also enjoys a pleasant Winter phenomenon called a chinook. The warm wind of the chinook produces spring-like temperatures in a matter of hours and can last for days.
From the first day we arrived here in Canmore, we fully emerged in this wonderful lifestyle and became proud and happy Canmore residents. For 10 years I have been a Realtor with RE/MAX Alpine Realty in Canmore. And now that I am living my dream, it's a great pleasure for me to assist others in fulfilling theirs. Finding just the right forever or vacation home in Canmore is a first step.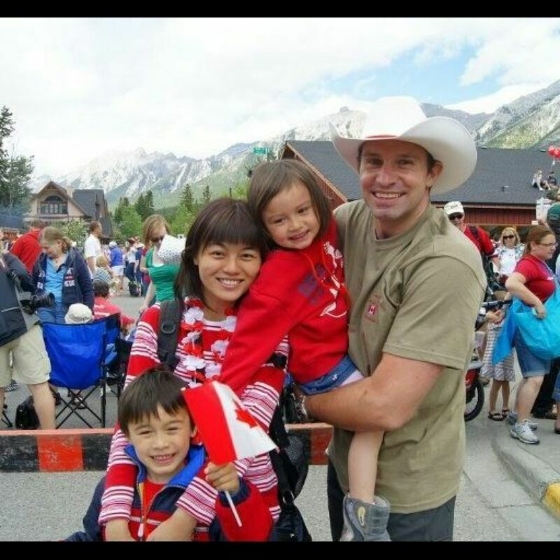 So if you think that Canmore could also be a place for you to enjoy, do get in touch with me and I'll be happy to introduce to you this amazing town and maybe your next home.